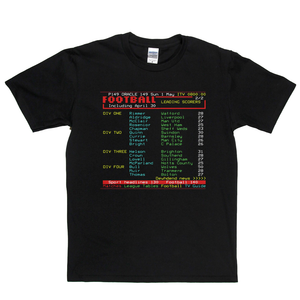 Top Scorers 1987 88 Oracle T-Shirt
The Ceefax system went live on the BBC on 23 September 1974 with thirty pages of information, but most of us got a telly that could show it in the early to mid 80s. Survived until 2012 and for years was how many of us caught up with the football scores, sometimes tracking games, endlessly waiting for it to tick over to update the score.
This is an Oracle grab, ITV's teletext service that lasted from 1978 - 1992 but I'd wager most thought of it as Ceefax anyway. 
---
Share this Product
---
More from this collection